RCMN Virtual Exhibits
Valley Carvers Past and Present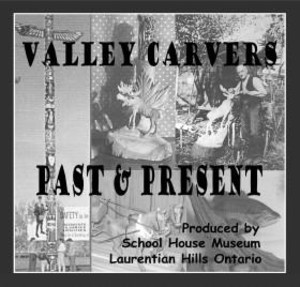 The woodcarvers of Renfrew County have earned national and international renown for works spanning a broad spectrum from the finest wooden jewellery to the tallest totem pole in Ontario. This Community Memories exhibit chronicles the lives and showcases the artistry of Renfrew County's woodcarvers from 1846 to the present day.
Hosted By: The School House Museum
Visit This Exhibit Online
Iroquois Beadwork: Through the Voices of Beads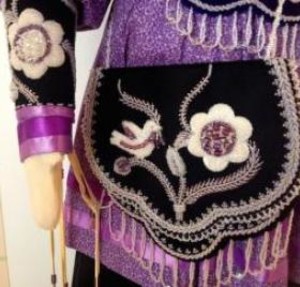 The Royal Ontario Museum has provided us with the travelling exhibit "Iroquois Beadwork, Through the Voices of Beads." This exhibit explores the Iroquois culture: the symbols of nature which are prominent within Iroquois Beadwork, the creation story of the Iroquois, and the stories of the stone giants and the corn husk dolls. We are pleased to have this on display at our location! Interactive elements are included.
Hosted By: Arnprior and District Museum
Visit This Exhibit Online
Coppsville/Clarksville aka Chalk River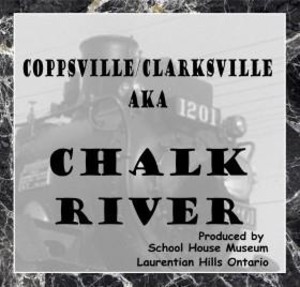 For many years before its name became synonymous with the Canadian nuclear industry, Chalk River, Ontario was a vibrant centre of activity in the Upper Ottawa Valley. Most early pioneers lived within a three-mile radius of the village as it exists today, but some settled as far away as the Deep River and Wylie districts.
Hosted By: The School House Museum
Visit This Exhibit Online
The House of Snider - A Canadian Clocks Success Story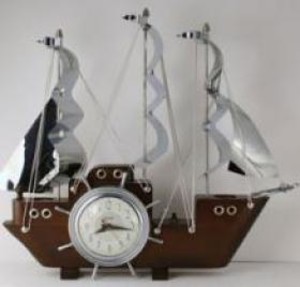 Through photographs of Snider mantel, TV lamp, and wall clocks, plus scans of related documents, this virtual exhibition explores the great Canadian success story of the Snider companies between 1950 and the mid-1970s.
Hosted By: The Canadian Clock Museum
Visit This Exhibit Online
Canoe Builders of Pikwàkanagàn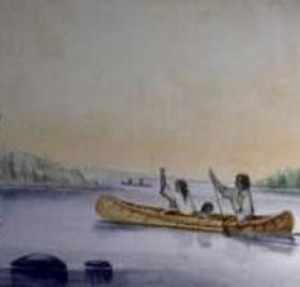 The origins of the birch bark canoe have been lost to legends over the centuries, however, the art of creating the canoe is kept alive by men like Matthew Bernard and his son Mike. Dan Sarazin and his son Stanley. His wife Jacqueline Sarazin and his two sons Greg and Tom, including Percy Commanda and Dave Sarazin. These people are members of the Algonquin of Pikwakanagan Band of the Golden Lake First Nation Reserve, who follow in the footsteps of countless other Algonquin canoe builders before them. They all have a common goal of preserving and teaching the traditional skills of canoe building, that will hopefully endure the passage of time.
Hosted By: Algonquin Way Cultural Centre
Visit This Exhibit Online

Land of the Spirits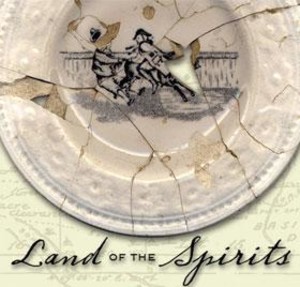 For thousands of years, the Bonnechere River in the Ottawa Valley has welcomed people to rest and prosper along its shores and in its forests. This exhibit focuses on the stretch of river called the Little Bonnechere, which flows southeast from the Algonquin Dome to Round Lake. Along these shores Aboriginal peoples hunted, fished and trapped, lumbermen felled trees, and immigrant settlers cleared farms. Over time, each group left its mark on the landscape.
Hosted By: Bonnechere Provincial Park
Visit This Exhibit Online
The "Swisha" Project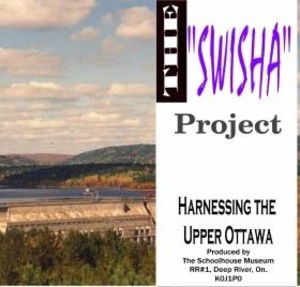 The School House Museum's presentation of "The SWISHA Project" leads the viewer through the 1940s construction by the Ontario Hydro Power Corporation of a major hydro electric power dam on the Ottawa River at Des Joachims (pronounced locally as 'D'Swisha'), Québec.

Hosted By: The School House Museum
Visit This Exhibit Online